Mass Notification Line: OneVue Notify
OneVue Notify™ InfoBoard™ displays are a versatile solution delivering visual alerts for critical situations, general messaging for day to day communications, while also providing synchronized time to help keep everyone informed.
Learn how OneVue Notify InfoBoard displays helped Pewaukee School District prioritize safety for students, staff and visitors.
When a OneVue Notify InfoBoard is used with the OneVue software, it enables administration access from any web browser, allowing you to edit or provide the desired message. Send an encouraging message about graduation or homecoming to the classes you're proud of, put your hospital's branded slogan, or display "testing in progress" for when the time comes. Our general messaging platforms are also extremely beneficial to provide directional reminders such as job safety tips, locating the appropriate terminal at a bus depot, or finding which session is next at a large conference.
Pairing Notify with the OneVue Software allows for post-incident reporting capabilities that document when a critical notification is triggered, time and date, and for how long before an "all clear" message was triggered. OneVue Software also alerts if there is a low or lost signal to an InfoBoard to ensure each InfoBoard is in working order at all times.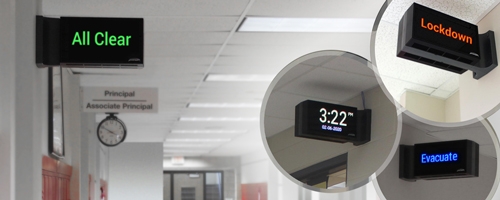 The InfoBoard critical notifications feature gives 5 visual message options to display throughout a school or office, potentially saving someone's life in an emergency. Seeing an important phrase like "evacuate" or "all clear" keeps each individual informed of what is taking place. This platform displays a message in your facility within seconds for critical events, as an additional layer of messaging to communicate with everyone in the building in uncertain times.
Beyond reactive crisis management, our OneVue Notify system also improves the efficiency of day-to-day operations by keeping everyone aware of updates. Additionally in the Notify line, bell controllers manage the bell schedule to ensure everyone is on time and properly alerted. The Notify line can easily integrate with other PA systems so you no longer need to rely on a single system to keep everyone informed, with the simplicity that comes with merging these products.
When Seconds Count
Critical notification messages are displayed within seconds, providing mass communication quickly
Mass Notification Made Easy
Ability to create custom messages for displaying event information, wayfinding, or celebratory notes
Time Sync Solution
InfoBoard solutions display synchronized times and dates to keep your building occupants alert of their schedules at all times
Bell Controllers
Keeping your staff and students on the same page throughout your facility with the same bell notifications and information through this school alert system
Hearing Impaired Communications
Visualizations to adapt to hearing impaired students for everyone to stay informed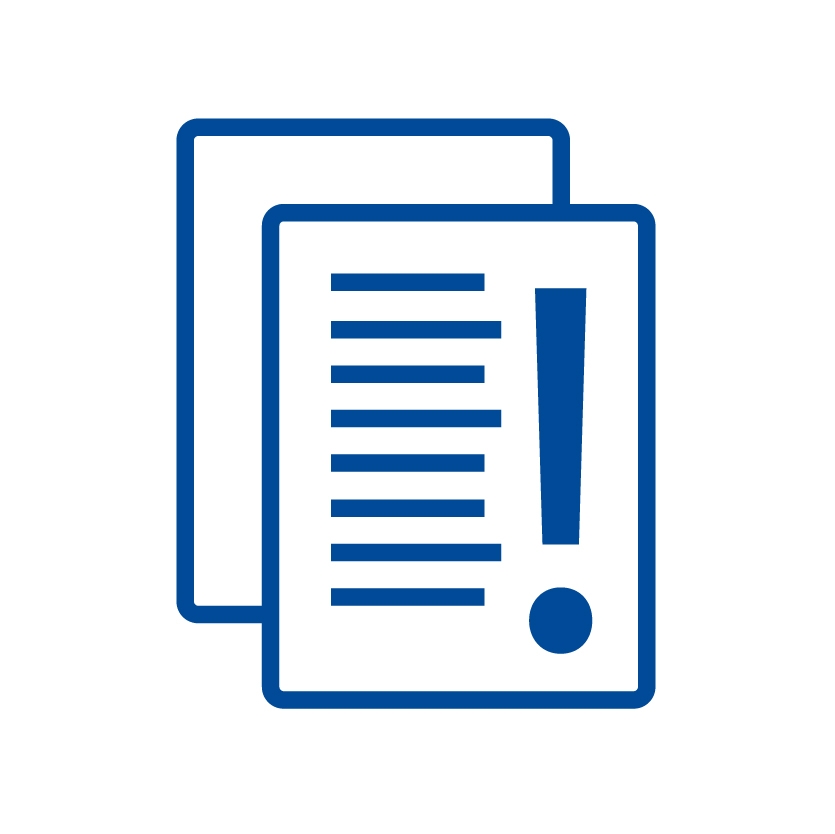 Incident Reports
Making sure each individual is up to date on the most recent findings, whether general messaging or to be used as an emergency notification system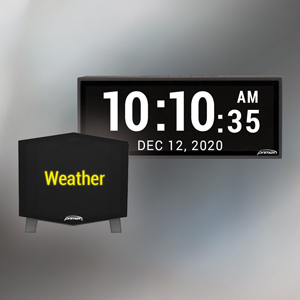 InfoBoard™
Reach people quickly with visual communications by displaying critical notifications, general messages and time/date.
Bell Controllers
Trigger custom or standard ring patterns throughout the school day to keep your staff and students on time.
Integrations
The OneVue Sync Transmitter can be triggered to send Critical Notifications to the Notify InfoBoard using industry standard built-in contact closure inputs, enabling our solution to be compatible with several other intercom and paging systems. 
 Learn how Singlewire can help trigger critical messages through the Primex OneVue Transmitter.
See How Primex Can Help You
Call Us
Call us at 855-602-2934 to talk to one of our sales professionals
Need an On-Site Consult?
We'll work with our Partners to schedule a visit to your facility to understand your needs
Request a Trial
Tell us about your needs and we'll get in touch with you shortly