Remote Monitoring
Get alerted of a water leak even if you're at home, on vacation, or in a different part of your facility.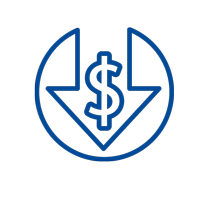 Minimize Costly Damage
Gain peace of mind knowing pipes, utility rooms, or other leak-prone areas are monitored with real-time alerting technology that helps prevent major damage.
Cover Large Areas
Each probe has a 13-foot cord, and up to four probes can be daisy-chained to a single sensor, helpful when covering uneven surfaces or complicated spaces.
After one Midwest health system experienced a catastrophic flooding event, they realized how extensive water damage could be. Building administrators decided they needed to take steps to prevent future events, so they turned to Primex. By installing and utilizing the OneVue Sense Water Leak Sensors, they effectively detected two more incidents before they could become disastrous — no repairs necessary.