Synchronized Analog Clocks
Primex Analog Clocks feature easy-to-read dials and durable frames and lenses, making them perfect for many areas of use. These technologically advanced analog clocks are available in multiple colors, sizes, and dial options, including custom dials featuring your facility name or logo.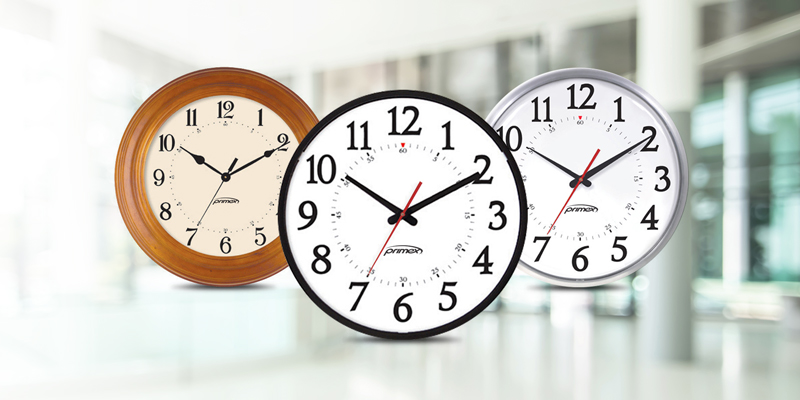 Accurate Analog Time Throughout Your Entire Facility
Versatility and durability have been longstanding qualities of Primex Analog Clocks, which is why schools, hospitals, and businesses depend on them for their synchronized time needs. Thanks to three different size, synchronization, and power options, plus a variety of frame materials and dials to choose from, we can provide the perfect synchronized clocks to meet the demands of any facility.
These synchronized clocks are connected through either our patented 72 MHz transmitter technology, Bluetooth® Low Energy, or Power over Ethernet (PoE), you'll have the ability to choose the connection that works best for you.
Primex Analog Clocks feature:
Automatic clock adjustments for daylight saving time
Three different frame options: plastic, metal, or wood
Three different size options: 12.5", 16", or 24"
Models suitable for dual-sided viewing
Seven different dial options
Ability for customized dials that display an image or your facility's name or logo
Three different power options: Power over Ethernet (PoE), AC, or battery
See How Primex Can Help You
Call Us
Call us at 855-602-2934 to talk to one of our sales professionals
Need an On-Site Consult?
We'll work with our Partners to schedule a visit to your facility to understand your needs
Request a Trial
Tell us about your needs and we'll get in touch with you shortly