Bluetooth® Low Energy
OneVue Sync™ Bluetooth® is a cloud-based time synchronization platform and one of three different technologies that Primex offers to ensure your facility's clocks remain synchronized.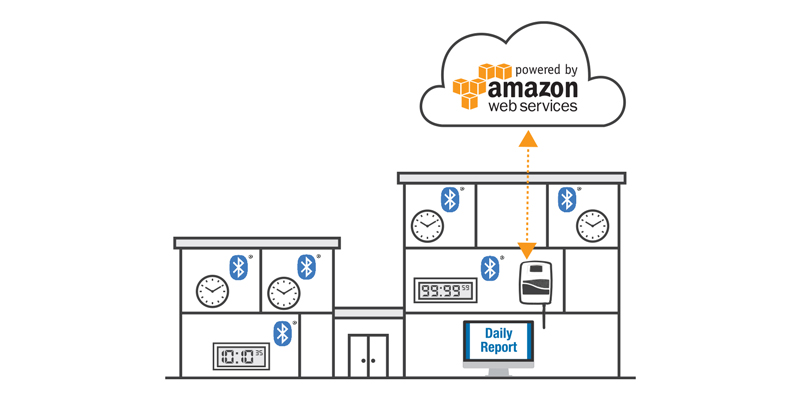 How Is Synchronized Time Acquired?
The OneVue Sync Bridge communicates with the cloud-based OneVue® software, where it acquires time data through a Network Time Protocol (NTP) server.
How Is Synchronized Time Distributed?
By leveraging Amazon Web Services and Bluetooth® Low Energy technology, a Bluetooth® Low Energy network is created, which establishes a solid connection between each Bluetooth® clock within a facility and the OneVue Sync Bridge. Time data is then sent to each clock throughout the facility thanks to the previously created Bluetooth® Low Energy network, ensuring perfectly synchronized clocks.
What Are the Benefits of Bluetooth® Low Energy for Synchronized Timekeeping?
The Bluetooth® Low Energy solution by Primex allows you to add as many Bluetooth® clocks as you'd like to your facility, with each one seamlessly joining an existing network of clocks and OneVue Sync Bridges.
Does Bluetooth® Low Energy Work Throughout an Entire Campus?
If needing to operate synchronized clocks throughout an extra-large facility or multibuilding campus, Primex will help to ensure appropriate deployment of clocks and OneVue Sync Bridges to support the proper mesh of technology.
To work with your OneVue Sync Bluetooth technology, our various styles and sizes of both digital and analog clock options ensure you'll find the perfect clock for your facility.
See How Primex Can Help You
Call Us
Call us at 855-602-2934 to talk to one of our sales professionals
Need an On-Site Consult?
We'll work with our Partners to schedule a visit to your facility to understand your needs
Request a Trial
Tell us about your needs and we'll get in touch with you shortly