Remote Access
Assess and troubleshoot alerts via the online platform without having to be on site

Eliminate Manual Reporting
Automate daily reporting tasks and easily export reports for compliance and audits by pairing with the OneVue software
7-Year Data Retention
Automatically logged data is kept within the OneVue platform for seven years and is easy to access when necessary
Single Sign-On Capability
Available within the Primex OneVue Sense Preferred Plan, single-sign-on technology lessens IT staff burden, simplifies the login process, and boosts cybersecurity
Secure Network
Collaborating with Amazon Web Services, the cloud-based OneVue software platform keeps your data secure and user information private
ENVIRONMENTAL MONITORING SOLUTIONS

Every OneVue Sense automated monitoring sensor reports its recorded data to the OneVue software platform, making for an all-in-one view of your monitored assets. OneVue stores this continuously logged data for seven years, going above and beyond typical regulation requirements and making for easy proof of compliance, especially with available on-demand report generation.
Users can manage their real-time alerts — available via text message, phone call, or email — for undesired states, allowing staff to immediately take corrective action and prevent asset loss. Automated monitoring data stored within one easy-to-access software platform allows users to focus more on their everyday tasks.
SYNCHRONIZED TIME SOLUTIONS

From schools to hospitals and any facility in between, OneVue Sync provides facilitywide synchronized time to help keep people, tasks, and schedules on time. Through the 72 MHz, Bluetooth® Low Energy or Power over Ethernet (PoE) technology options, the OneVue software platform helps to receive time from either GPS or a Network Time Protocol server and communicate that time signal to all clocks.
Within the OneVue platform, users can manage all or individual clocks and receive status alerts to ensure all clocks are operating correctly. If a clock has a low battery or is receiving no or a low signal strength, the OneVue software platform alerts users to exactly where the concern is, eliminating unnecessary trips to roofs, server rooms, or electrical closets.
MASS NOTIFICATION SOLUTIONS

OneVue Notify InfoBoard displays provide critical notifications throughout a building or entire campus to help keep people safe. Within the OneVue software platform, users can customize critical notifications to offer specific insight about emergencies or compose their own visual, textual message to congratulate, inform, or direct. The OneVue software platform allows for further customization by granting users the ability to relay certain messages across separate buildings or different areas, depending on any specific situation.
OneVue also gives users the option to utilize seven different colors, which can be a way to communicate via color-code to those who cannot or may be too young to read. Additionally, the software platform logs every message sent, greatly simplifying incident report documentation.
Government Requirements
The OneVue Software platform meets or exceeds all requirements and recommendations of the CDC, FDA, TJC, and other authorities having jurisdiction (AHJs), including FDA 21 CFR Part 11, for electronic records.
Kossuth Regional Health Center in Algona, Iowa, chose to install OneVue Sense Temperature Sensors to help staff with the routine logging of temperatures inside refrigerators holding invaluable blood samples and vital vaccines. Along with this continuous temperature monitoring that has saved staff time and helped with regulatory compliance, the OneVue software platform has provided peace of mind thanks to its anywhere-accessible nature.
"I have my phone on me all the time, so I can be in front of the refrigerator or freezer knowing exactly what is going on with this unit. The OneVue system has saved thousands, maybe tens of thousands of dollars in medical product."
— Adam Shaw, Maintenance Manager, Kossuth Regional Health Center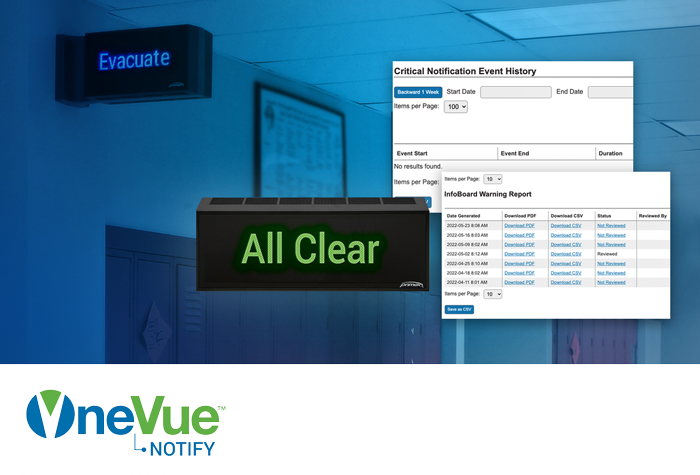 Administration staff at Pewaukee School District in Pewaukee, Wisconsin, know the importance of quick communication during an emergency. That is why they choose to utilize OneVue Notify InfoBoard displays in their 540,000-square-foot campus to communicate critical events to their district's 3,000 students. School leaders rely on the OneVue software platform to easily document incident reports.
"If we have a critical incident on campus, it's important for us to complete an after-action report. We can use OneVue to print out an event history report."
— John Stangler, Safety Coordinator and Director of Buildings and Grounds, Pewaukee School District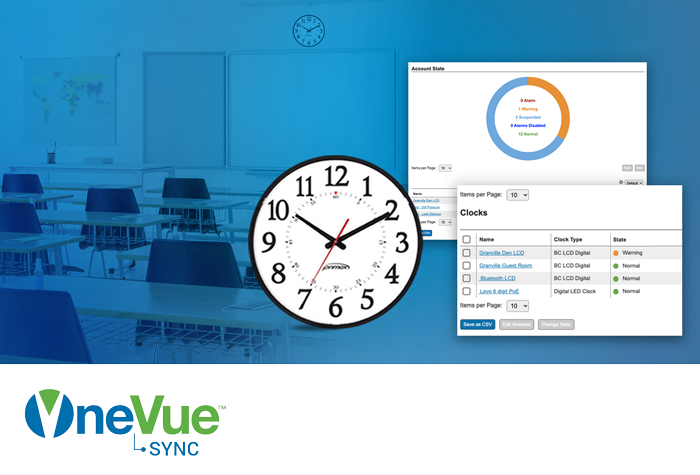 Leaders at Walworth Jt. School District #1 in Walworth, Wisconsin, decided to install OneVue Sync technology to eliminate extensive clock maintenance throughout their school. School staff members had to spend a lot of time manually checking and setting every clock within their facility. To increase dependability and ensure a maintenance-free synchronized time system, leaders chose the wireless 72 MHz OneVue Sync technology option and installed 70 analog clocks at their school. Since implementing this Primex solution, Walworth Jt. School District #1 staff members have been able to better focus on their everyday mission: to provide the best education for all students.
"I would recommend Primex and the OneVue platform to other districts. Our total experience has been great. The products are top-notch, and the people supporting them have been wonderful. Every touchpoint we have had has exceeded our expectations."
— Phill Klamm, District Administrator at Walworth Joint School District #1