SYNCHRONIZED TIME SOLUTIONS

Implementing a synchronized time system throughout your school or campus can lead to multiple benefits, such as:
Decreasing student tardiness
Increasing on-time class starts
Optimizing standardized testing monitoring
With numerous analog and digital clock options within the Primex OneVue Sync portfolio, choosing the perfect clock for different areas within your school is simple.
With a guarantee of coverage, Primex has the technological ability to provide wired or wireless unified timekeeping throughout any sized school or campus.
MASS NOTIFICATION SOLUTIONS

In today's day and age, quick communication and notification of critical events within schools could be the difference between life and death. When installed throughout a school or campus, OneVue Notify InfoBoard™ displays can:
Provide visual messages of either LOCKDOWN, EVACUATE, LOCKOUT, WEATHER, or ALL CLEAR to alert students, staff, and others of a critical situation so they can quickly get to safety
Relay custom messages to inform, inspire, or congratulate students or staff when connected to the OneVue web-based software platform
Communicate in noisy environments (gyms, band rooms, cafeterias, etc.) and to those hard of hearing or who are unable to read
Add another layer to your emergency response plan with OneVue Notify. Also, you can integrate a Primex Bell Controller into your existing PA system to set a customized bell schedule for your school or district.
ENVIRONMENTAL MONITORING SOLUTIONS

The Primex OneVue Sense suite of environmental monitoring products includes sensors that automatically monitor internal refrigerator or freezer temperatures to protect nursing offices' valuable medications and cafeteria food. If a sensor detects an out-of-range temperature, due to a power failure or malfunction, for example, it sends a real-time alert via text, phone call, or email to inform you to take corrective action and save your assets.
Additionally, the Primex OneVue Sense portfolio includes indoor air quality sensors that automatically monitor the ambient air temperature of classrooms, which can be helpful when optimizing conditions to limit the spread of illness.
Protect what matters most and strengthen your learning environment with OneVue Sense.
The Primex OneVue devices work seamlessly with the OneVue web-based software platform. Once installed, users can log onto their accounts to easily make bell schedule changes, write custom messages for their InfoBoard displays, check their automated monitoring conditions, and generate incident or data reports on demand. The OneVue software is available on any internet-connected device with a web browser.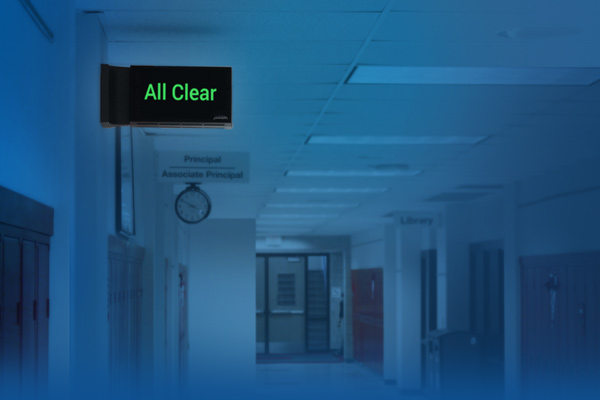 In order to use automated monitoring and visual messaging to strengthen the learning environment and bolster safety for students, there has to be an actual, physical environment in which to do so. Use the OneVue Sense water leak sensor to ensure your classrooms remain viable. This sensor can prevent leaks — say from a malfunctioning heating, ventilating, and air conditioning system — from turning into costly floods that create unusable classrooms, expensive repairs, and the inconvenience of relocating students.
On the topic of safety, OneVue Notify InfoBoard displays can be a vital tool in protecting students, teaching staff, and visitors. Given the fact that 15% of the 277 active shooter incidents in the U.S. between 2000 and 2018 happened at schools pre-K through 12th grade, combined with the expensive price tag on active shooter insurance, the added layer of visual message boards to increase quick communication can be both lifesaving and cost-effective.